If you're a cigar enthusiast, you know the importance of having an electric cigar humidor. If you obtained an exquisite and high-quality cigar, will you use them all at once? No. You will savor its taste and keep the rest of the sticks for future consumption. Can you do it without the best cigar humidor?
For people who love to collect cigars, having a cigar humidor is one of the primary requirements. Let's find out how a humidor can help you, along with a shortlist of the best models available on the market.
What Is a Cigar Humidor?
A cigar humidor is a storage made specifically for stogies. It comes with a humidifying system to make sure that the cigars will stay moist, allowing you to keep them more several months without spoiling.
An electric cigar humidor is an upgraded version of typical stogie storage. It comes with all the features of a typical humidor, but it provides better and more convenient qualities.
How Does an Electric Cigar Humidor Works?
Electronic humidors come with a permanent humidifying system. This system will keep your cigar moist. If you keep your cigars inside a cabinet, it would only take around 3 to 5 days before they dry up completely. If there's excessive humidity in the area, it will be enough for tobacco beetles to hatch. Humidors can keep the humidity levels of the storage between 68% to 72%, which is ideal for cigar storage.
Once the required level is reached, the ventilator will stop working. You will be alerted by the humidor if you need to refill the supply of moisture.
Electric humidors are also responsible in keeping the right temperature for the stogies. By keeping the right temperature, you can prevent the rot of cigars. It will also discourage the hatching of tobacco beetles. The humidor can keep the temperature of the storage below 25%. Together with the 72% humidity level, your cigars will stay fresh for a long time.
The Best Electronic Humidors
After knowing what an electronic humidor can offer, it's time to find out the best products on the market. Remember that you can only keep your cigars fresh for a long time if you're using the right storage so you need to choose wisely. The list below can help you find the best stogie storage that you need.
Deauville is currently one of the most popular electric humidors on the market because of its exquisite look along with its customizable features. This cigar storage can hold 100 to 150 cigars depending on the size of their ring gauge. It comes with an airtight seal that is ensured by Sure Seal Technology so you can guarantee that the humidity and temperature of the storage will be maintained.
Its thermoelectric cooling technology is very efficient along with a brass-framed hygrometer and humidifier. It also has a removable tray along with 2 dividers. This will allow you to place all other accessories that you use when using your cigar.
It is very appealing to cigar enthusiasts because of its amazing design. It has quadrant hinges that are hidden so the storage opens and closes smoothly. You can even engrave your name on the brass nameplate included in the package.
Pros:
Smooth opening and closing

Durable construction

Scratch-resistant bottom

Long-term storage for cigars
Con:
The analog hygrometer is inaccurate
2. Schmécké 400 Cigar Thermoelectric Cigar Humidor
If you're looking for something bigger, the Schmécké 400 Cigar Thermoelectric Cigar Humidor is your best option. This is definitely a good choice for cigar enthusiasts who are collecting a lot of different brands of cigars. Take note that this is a huge storage and you can put all the accessories that you are using inside.
One of the best features of this cigar humidor is its ability to preserve the flavor of your cigar. Although some humidors can maintain the freshness of the cigar, this particular model can also retain its original flavor. With precise temperature control along with its integrated hygrometer, you can preserve the distinct flavor of every cigar inside it.
When it comes to thermoelectric cooling, this cigar humidor is extremely efficient. It will make sure that the interior temperature will not exceed 25 degrees. It comes with an in-built accent lighting as well so you can check the inside properly even if the room is dark.
Pros:
Doesn't require frequent maintenance

Very durable

High capacity storage

Elegant design
Con:
Not applicable for regular cigar collector
3. Guardsman Travel Black Cigar Humidor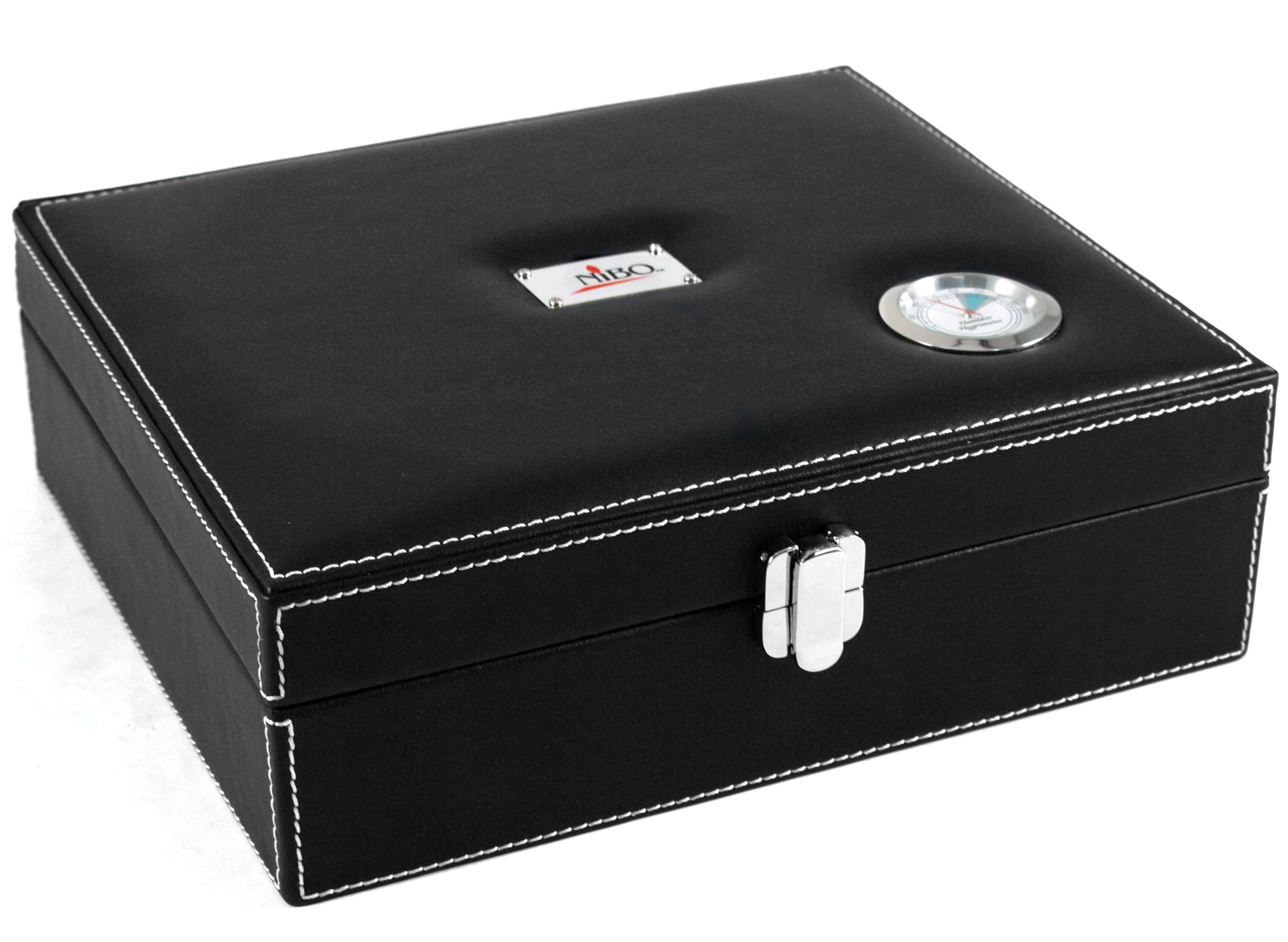 Since we've got large storage on the list, we also need a humidor that is meant for traveling. The Guardsman Travel Black Cigar Humidor is the perfect partner if you are going on a trip and you don't want to leave your cigars. This is a good choice if you plan to bring a few cigars on your trip. It's lightweight, compact, and very easy to carry as well.
This humidor comes with an impact-resistant exterior. It is also water-resistant so you can bring it with you to the beach. Since it has a plastic exterior, it's not easy to get damaged. Also, it can hold up to 15 8-inch cigars. If you are going to place bigger cigars, it can only hold around 8 to 10 sticks.
Although it is only a storage for traveling purposes, it comes with an in-built humidifier. It will still guarantee that the inside of your storage remains moist and prevents cigar spoilage. With a convenient carry handle, you can take it anywhere you want.
Pros:
Perfect for traveling

Lightweight

Comes with humidifier

Durable
Con:
It's a bit large for your travel bags
4. LAGUTE Groucho Case
If you're looking for a humidor for traveling that looks elegant and refined, the LAGUTE Groucho Case is your best option. It is made from leather and cedarwood materials so it looks very sophisticated and it exudes a bit of elegance as well. It is brown in color and very lightweight so you can bring it with you anywhere you want.
It only weighs around 860g so you can put it inside your bag along with your cigars. This travel storage can only hold up to 6 cigars. It's a bit small compared to others so it is only meant for short travels. Bringing 6 cigars can only last you for a couple of days so you can only bring this around the neighborhood.
This model comes with a dropper and a humidifier. Even if it's extremely hot outside, the storage will keep the moisture levels high inside the humidor.
Pros:
Airtight design

Durable

Elegant

Portable and lockable
Con:
5. NewAir Cigar Humidor
The NewAir Cigar Humidor is currently one of the storages with a high capacity. Just like the other brands on this list, it is also 400-cigar capacity storage. If you plan to store a lot of different brands of cigars, this is the best storage space that you can put inside your room.
It comes with an airtight sealing to make sure that the inside will stay humid at all times. This storage can also be locked so no one can access your cigars and accessories aside from you. Featuring an in-built hygrometer, you can monitor the humidity inside the storage to make sure that your cigars will last for a long time. The digital temperature is very precise so it would prevent tobacco beetles from hatching.
With its interior LED light, you can easily see the contents of your storage even if the room is dark.
Pros:
Can hold up to 400 cigars

Durable construction

Built-in heater if you're from the colder areas

Elegant design
Con:
6. Prestige Import Group Clevelander Thermoelectric Cooler Humidor
The Prestige Import Group Clevelander Thermoelectric Cooler Humidor is exquisite storage for your stogies so it has been one of the most popular choices of cigar enthusiasts. You can even store boxes of cigars inside since it is big enough to house them. This humidor can hold up to 250 cigars and it will keep them protected against spoilage.
With the stainless-steel tempered glass door, you can make sure that the storage is fully sealed. This will allow the humidor to keep the interior humid and maintain the right temperature for your cigars. The thermostat can be adjusted depending on your preference, especially if the climate in your area starts to change.
It comes with a thermoelectric cooling system and interior lighting. You can open this storage even if the room is extremely dark. It is battery-operated so you don't need to plug it in.
Pros:
Sturdy and stylish

Large capacity

Customizable accent colors

With LED lighting
Con:
Final Thoughts
You will need an electric cigar humidor if you have a lot of stogies to keep. Always remember that cigars won't last for a long time if not properly stored. There are cigars that would cost thousands of dollars so if you don't want to waste them, you should invest in high-quality cigar storage right now.
If you are looking for the best electric humidor for your cigars, there is a wide range of options available for you on the Internet.