We've all experienced drinking beer in cans and bottles, but have you ever tried a beer kegerator? A kegerator is actually a type of refrigerator that keeps your beer cold and fresh. The beer is being dispensed from a built-in pressured tap system. This is different from cans and beers because you can dispense the beer directly on your stein glass.
Remember that the Beer Meister kegerator is a luxury and it is very expensive. It's better to know this beforehand before you buy. If you're an avid fan of beers, we listed down some of the best kegerators in 2022 to help you out.
Reasons to Buy a Kegerator
Why do you have to look for a beer kegerator for sale? Since it's just a luxury, would it give you certain benefits if you have one? Let's find out why having a kegerator is beneficial to your home.
You won't really notice that you saved a lot of money from buying a kegerator. Since this is made for people who love to drink beer, then we will focus on that.
If you buy a keg of beer, it's the same as buying other items in bulk, which means that you can get a bigger discount than buying a 6 or 12-pack. You will eventually pay for the kegerator with all the money that you saved from buying beer. This is a long-term investment so don't expect to get an ROI in just a few years.
One of the perks of having a kegerator is you can enjoy a fresh beer at home. You don't need to drive to a pub near you or visit a bar in the city. You can just stay at your house with your friends and enjoy a mug of ice-cold and fresh beer.
If there is a party in your house and you have a lot of guests, you won't have to worry about cleaning out the cans and bottles. You don't have to bring the bottles back to the store or collect the cans for recycling.
As long as you have plastic cups, then you and your guests can enjoy an endless amount of beer without all the hassle once the party is over.
Buying a Beer Kegerator
1. EdgeStar Single Tap 24" Beer Keg Dispenser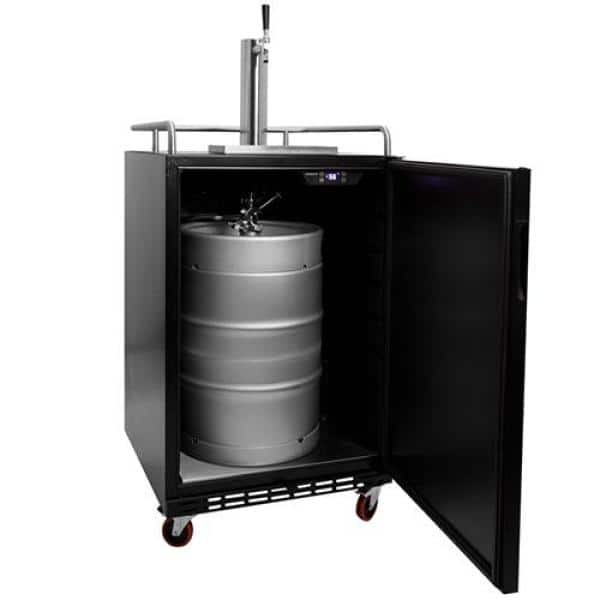 Since you are planning to invest in a kegerator, it's better to get a top-of-the-line model that will provide you with the features that you need. The EdgeStar Single Tap 24" Beer Keg Dispenser is one of the most popular options on the market right now and there are a lot of reasons behind this.
This kegerator comes with a digital temperature gauge. You can select the temperature that you want starting from 32 up to 60 degrees depending on the type of drink that you're chilling. Although this is best for beers, you can use other drinks based on your preference. The best thing about this is that the tube all the way to the tap is also cooled. It means that the drink will still have the right temperature while it's being dispensed to your glass.
The kegerator has dimensions of 34.375 x 23 x 25.375 inches, which is big enough to fit an oversized keg. You can put smaller keg setups if you want. The ventilation is at the front of the unit so you can fit this in a cabinet or you can set it up on its own. It comes with a 5-pound CO2 canister, but you'll have to fill it up yourself.
Pros:
Adjustable temperature

Perfect temperature for drinks

Made for all sizes of kegs

Durable construction
Con:
Needs a bigger CO2 canister
2. Kegco K309 Keg Dispenser
If you want an all-rounder, the Kegco K309 Keg Dispenser is one of the best choices on this list. It offers the best value if you are looking for a kegerator making it a popular choice for typical households who want their beers chilled.
This keg dispenser can keep your beer at the right temperature for up to 7 days. It has a dimension of 33 x 24 x 25 inches so it would easily fit inside your house. You can even place it in a cabinet or use it as a standalone unit. With its size, it can accommodate full-sized kegs and smaller ones. This is a practical choice because it is very easy to clean and you can move it around with ease, thanks to its rolling casters.
It comes with a removable drip tray and a chrome guard rail that will allow you to put your beer glasses at the top of the unit without sliding off. The best thing about this is that you can adjust the temperature of the kegerator through its digital screen. You don't need to pull the keg out just to adjust the temperature at the back.
One of the most amazing functions of the K309 is its deep chill feature. This will immediately drop the temperature of the kegerator to chill your beer right away.
Pros:
Chills your beer fast

Durable construction

Great value
Con:
3. Insignia 1-Tap Beverage Cooler Kegerator
It's a fact that most homeowners don't have enough space to fit a kegerator. If you only have a small house and the space that you can free up is not too big, the Insignia 1-Tap Beverage Cooler Kegerator is your best bet. It is currently the best beer kegerator for home as it will allow you to save more space.
The first two options are a bit expensive, but this model is very affordable. Although the size is smaller, it is perfect for homeowners who don't have enough space for a large kegerator. It is an entry-level keg with basic features to offer. With dimensions of 33 x 23 inches, it can hold a petite half keg or 1/4 of a slim keg.
Although it is small and cheap, it can chill kegs from 32 to 45 degrees Fahrenheit. This is pretty amazing for an entry-level keg so it is definitely worth your money. Since it's a bit small, there are wheels attached so you can roll it wherever you want. The wheels can be locked so you won't have to worry about the keg sliding off.
The best thing about this is that you can turn it into a regular refrigerator. You just need to pull out the keg, put the shelves in, and start storing your groceries.
Pros:
Good temperature range

Durable construction

Can work as a normal fridge
Con:
No temperature display included
4. HomeCraft Beer Growler Cooling System
If you don't want to commit to a full keg, this is a mini kegerator that you can place on top of your countertop. This cooling system can handle up to 5 liters of beer and it will turn it into chilled drinks up to 36 degrees. This kegerator can also keep your beer fresh for up to 30 days, which is pretty good for a small unit like this.
It is perfect for small spaces. It has dimensions of 17 x 18 x 13 inches so you can place it on a table or the counter if you have guests in your house. It is very in demand for normal household owners who don't have a lot of money for a bigger unit.
Take your time to check its features because it is only made for a normal household. If you plan to throw a big party, this kegerator will not be enough to accommodate everyone. Getting a bigger one is still the best choice for large gatherings.
Pros:
Perfect for small spaces

Durable

Comes with a reusable growler
Con:
A bit load when operating
5. Coldbreak Jockey Box
Since there are smaller versions already, the Coldbreak Jockey Box is the most compact among the different kegerators on the list. If you want to bring your beer anywhere you go, this portable beer kegerator will be your best bet. It doesn't require any batteries or electricity so you can bring it when you're camping.
If you plan to go on an outdoor adventure and you can't live a day without drinking beer, you can bring this with you. It comes with an innovative keg system with insulated coolers that will keep the beer cold.
Remember that this particular kegerator is not applicable for home-usage. This is like a traditional cooler for ice and it doesn't have the ability to make your beer cold.
Pros:
Compact

Durable

Easy to clean

With insulation
Con:
Can't keep your beers cold for a long time
Final Thoughts
Getting a beer kegerator should always depend on your personal preference. If you're not a beer lover or you don't have enough space to install it, then you can just stick with beer cans and bottles. If you love beer and you are a regular drinker, this will surely be a great treat for you.
If you are looking for the best kegerators in the market, we've got an array of items that you will surely love.