A beer kegerator cabinet is one of the most important electrical appliances that every beer lover wants to have. For a typical household, getting a kegerator might not be the best choice as it's very expensive. However, for people who love to drink different types of beer, a kegerator is a must.
Whether you plan to get a kegerator bar cabinet or you want to create your own, it's very important to choose a beer kegerator wisely. Here are some of the things that you should know about a kegerator and some tips on how to find the best one.
What Is a Kegerator?
A kegerator is an electrical appliance made to dispense beer. Although it is mainly used for beers, this appliance can also dispense other carbonated beverages. In a way, a kegerator is like a refrigerator for beers, allowing you to enjoy fresh and cold brews any time of the day.
Simple Facts About a Kegerator Cabinet
It's normal to hesitate when you're buying a kegerator. It's a very expensive appliance that is not as useful as the other kitchen appliances. To help you decide if buying one is the right choice, we have listed down a few simple facts about a kegerator.
It provides complete control over the amount of beer that you're going to drink. You don't have to open another can or bottle if you just want to take a sip. Get a glass and dispense a small amount with a kegerator.

It's not only made for kegs because a kegerator can also serve as a small refrigerator. If you don't have beer kegs, they have shelves where you can store cans and bottles to keep them cold.

Your beer will last for about a month inside the kegs so if you're not a heavy drinker, you don't need to empty the keg right away. Take your time and get some fresh beer whenever you feel like it.

Kegerators come in different types and sizes so you have a lot of options to choose from. Some smaller models are more affordable if you're on a budget.

A full-size keg can hold around 124 pints of beer. This is good enough for a small party at your home.
How to Choose a Kegerator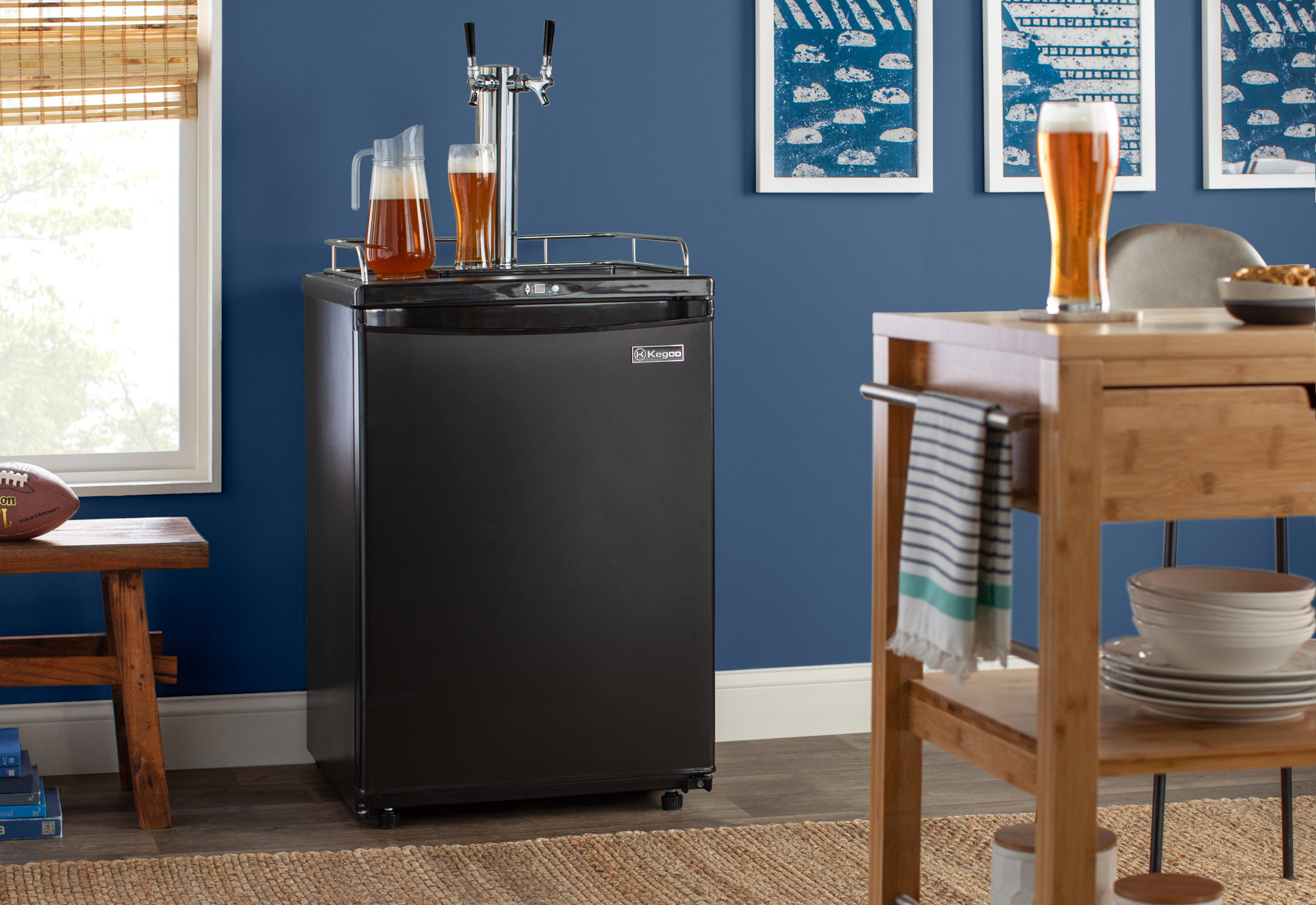 If you're convinced and you want to get a kegerator for your house, it's best to know what to look for so you won't waste money. We all have different preferences, which is why you need to know some of the important elements to look for and decide for yourself. Here is a short buying guide to help you choose the best kegerator cabinet in the market.
1. Choosing a Type of Kegerator
Before we go into detail on the features that you need to look for in a kegerator, the first thing that you need to do is to choose a specific type. Yes, kegerators come in different types and sizes so it's better to know what these types can do before you move on.
If you're not ready to fully commit to a large kegerator, you can test the waters by using a countertop model. This type of kegerator can hold one type of beer. This model is very affordable and it can usually hold a 500ml keg.
The best thing about this is that they are available in your local grocery stores. This would be a good choice if you want to know how kegerators really work and if a bigger one would benefit you in the long run. It's also the perfect choice for homeowners who want to have one but are not beer lovers.
If you're a beer lover and you can't wait to have a kegerator at home, the best choice would be a freestanding model. Basically, this type can hold a full-size keg. It's similar to a normal refrigerator, but it is a smaller one.
A freestanding kegerator comes with wheels so you can move it around depending on your preference. You can put it inside your room or just leave it in the kitchen area. As long as you have space for it and there is an outlet in the area, you can put your kegerator there.
If you have a home bar or entertainment space, getting a built-in kegerator would be a good choice. You can opt for a DIY kegerator cabinet if you want or you can hire a professional to do it for you.
Although a kegerator that you can move seems like a better option, some people prefer a built-in model for aesthetics. This is true for those with rooms and spaces that are meant for gatherings and parties.
If you're not satisfied with just one type of beer, you don't need to get another kegerator for that. You just need a multi-tap kegerator that can accommodate two beers at a time. It comes with a unique dual tap so you can also put two kegs inside it. However, you cannot put two full kegs in the unit. You can either place a single full keg or two smaller kegs.
Having an outdoor kegerator cabinet is a must if you have an outdoor place where you usually accommodate guests. It's always good to have a beer dispenser at parties and gatherings so an outdoor model would be a great option for you.
2. Interior and Exterior Sizing
When choosing a kegerator, you need to take into consideration its interior and exterior size. As for the interior size, you need to check if the kegerator is built to handle a full-size keg and multiple smaller kegs. Remember that there are models that are only made for a full-size keg. You should decide if you want a kegerator that can handle multiple sizes or if you will stick with a model made for a single size.
As for the exterior size, you need to check the space in your house. A countertop model may not be a big problem, but if you're getting a freestanding model, you need to check the available space in the room.
3. Tap Configuration
Most of the available kegerators only have a single tap, especially for those that are made for single full-sized kegs. However, models with two taps are now available in the market and they can accommodate two smaller kegs, allowing you to have two different types of beer inside the kegerator.
For this factor, you need to decide based on your preferences. If you want a more versatile model, get a kegerator with two taps. If you are sticking with a single beer, you can opt for a single tap model.
4. Precise Temperature Control
This is a specific feature that you need for a kegerator. Whether you are only buying a small countertop model or a bigger freestanding kegerator, you need to make sure that the temperature control is efficient and precise.
Look for a product that will allow you to have control over the temperature of the kegerator. It means that you can adjust it based on the beer that you currently have in your hand.
5. Temperature Alarm
This is a very important feature to have, especially if you are living in a hot country. Although the outside temperature won't affect the interior of your kegerator, there are instances where the temperature suddenly rises or drops.
With a temperature alarm, the kegerator will alert you if the temperature inside is already out of the range that you placed.
6. Storage Space
Always look for a kegerator that comes with shelves. Remember that a kegerator can turn into a small refrigerator when not in use. Make sure that there are shelves where you can place other items. This will make sure that your kegerator will still be useful if you don't have beer kegs placed inside.
This is only applicable for large kegerators because they are big enough to turn into a refrigerator. If you are buying a countertop model, you won't have to worry about storage space.
7. Cost
This is the most intimidating factor when buying a kegerator. Since it's not an essential appliance inside the house, spending hundreds of dollars for one may seem like a bad idea. Again, you should only buy a kegerator if you love beers or you always have guests and gatherings in your house. If you're not a drinker, spending a lot of money on it won't make sense.
A kegerator can cost around $200 for the smallest models and it can go up to $3,000 for commercial-grade kegerators. High-quality kegerators are usually priced at $1,300 or more, but you can get a decent one for $1,000.
It's better to check your budget first and decide based on how much you love beers. If you think that it's worth your money, then get one for yourself.
Conclusion
Choosing a kegerator cabinet is not too difficult because the features are not too complicated. They are pretty straightforward so if you're not too nerdy and you don't care much about advanced features, a typical kegerator will work wonders for you.
Are you looking for beer kegerators? We've got a lot of different models that you can choose from.