If you're a fan of cigars and you love smoking from time to time, you know how important it is to have a cigar humidor. Expensive cigars are usually kept for a long time as enthusiasts savor the taste and save for nice occasions so It makes sense that they would need a proper cigar humidor box to keep their stogies fresh.
Like many other products on the market, cigar storage comes in a variety of brands and designs. This is why you need to know exactly how to select the best one. Well, you won't have to spend too much time surfing the web because we've got a list of cigar humidors that you can choose from.
Looking for a Cigar Humidor? These Are the Best!
1. Case Elegance Cedar Humidor
This Cedar Humidor from Case Elegance is one of the most sought-after storage options for your cigar. Aside from its great design, this humidor offers a wide range of features that will entice even the strictest cigar enthusiast.
First, it offers a generous capacity allowing you to store 25 to 50 cigars depending on the size of their ring gauge. The space-saving form is also an amazing thing since it's not too big. You can keep it in your drawers without taking too up much space. It comes with a magnetic seal that keeps the storage secure at all times.
The primary selling point of this cedar humidor is the integrated digital hygrometer. Maintaining the humidity level of the humidor is the most difficult part of storage, but the digital hygrometer will allow you to accurately set the levels. You just need to pick a solution to keep the levels between 65% to 70%, which is the optimum storage environment for your cigars.
However, you should know that there are some issues with the accuracy of the hygrometer. This is pretty much similar to the other products.
Pros:
Secure

Durable

Comes with a digital hygrometer
Con:
Issues with the accuracy of the hygrometer
2. Bald Eagle Handmade Humidor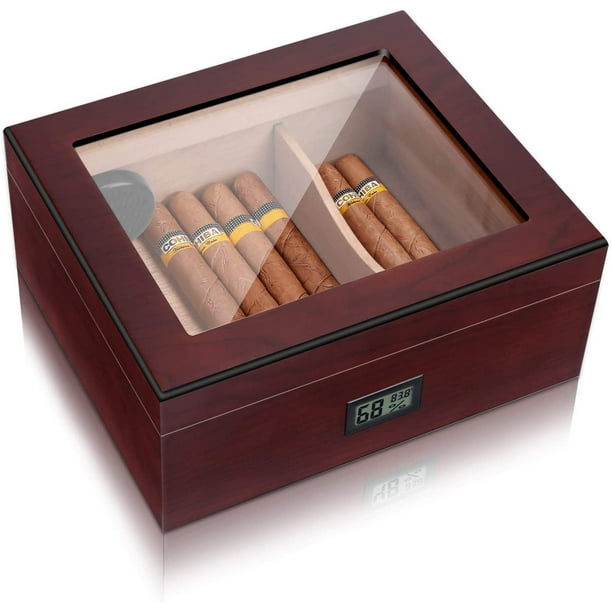 While most of you will probably choose something that can keep your cigars for a long time, not everyone wants to keep their stogies for a long time. There are people who are only looking for a humidor to keep their cigars for a short while. If you are a typical cigar enthusiast, the Bald Eagle Handmade Humidor is your best choice.
This is a compact handmade humidor that you can bring with you anywhere you want. It is small enough to be kept in your bag, but it can still carry around 20 to 25 sticks. It looks very elegant so it is perfect for your desktop table for display.
Although this type of humidor is not made for long-term storage, it is good enough to prevent your cigars from drying out fast. It is made from Spanish cedar and it has a deep and rich walnut finish.
Like other humidors, it also comes with a hygrometer to regulate the humidity levels inside the storage space. You should also take note that the hygrometer also has some issues with accuracy.
Pros:
Scratch-resistant underside

Durable construction

Sleek design
Con:
Issues with the accuracy of the hygrometer
3. Mantello Glass-Top Cigar Humidor
If you're looking for an affordable humidor for your cigars, Mantello is the right brand to consider. The Mantello Glass-Top humidor is currently one of the best values on this list, but don't be fooled by its price. It offers a wide range of features that you can usually find in more expensive cigar storage.
This storage is very spacious inside and it can accommodate up to 50 cigars based on the ring gauge. If the cigar is a bit larger, it can accommodate up to 25 sticks. In terms of design, it is almost on par with other models and it comes with a glass top so you can view your cigars. Basically, you don't need to open the case every time you want to check its contents.
Inside the humidor are a humidifier and a metal hygrometer. The humidifier can help keep the humidity levels in check, along with the hygrometer. This will allow you to maintain a balanced environment to make sure that your cigars will not be spoiled. However, a lot of people have concerns about adjusting humidity levels.
With its rosewood finish, it will surely add a touch of elegance to your desk and provide amazing storage for your cigars.
Pros:
Durable construction

Glass top

Comes with a humidifier and hygrometer
Con:
Humidity levels are hard to adjust
4. Scotte Cigar Storage
It's always good to have backup storage for your cigars, especially if you are going to travel. Although some people will just leave their cigars at home, some will want to bring a few while they are traveling.
You don't need to worry because the Scotte Cigar Storage is extremely handy and compact. No matter where you want to go, you can bring this cigar storage with you without taking up too much space. The inside can accommodate up to 17 cigars, which is respectable since it is considered storage for traveling. If you have thicker sticks, you will have to adjust depending on the ring gauge.
Even if it's only backup storage, it still comes with a hygrometer. This will allow you to check the humidity levels inside the humidor. This is pretty amazing since you can guarantee that your cigars will not get spoiled while you travel.
As a travel buddy, this humidor comes with a handy travel bag. It is attractively packaged as well, so it would be a good gift for other cigar enthusiasts. Since it's only made for traveling, it is not a good choice for long-term cigar storage.
Pros:
Durable

Made for traveling

Comes with a hygrometer
Con:
Not made for long-term storage
5. Capri Desktop Humidor
Most cigar enthusiasts not only look at the features of a humidor. They also see if the storage exudes elegance. Most of them prefer to place their humidors on their desks so a simple design won't cut it. They are always looking for something more elegant and sophisticated. The Capri Desktop Humidor is the answer to this.
With its mahogany finish, this humidor can add elegance and class to the desk. It will also complement all the other adornments that you have on the table. The interior, on the other hand, is lined with Spanish cedar, making it an elegant choice for people who want their cigars to be kept in good condition.
Like all the other typical humidors on the list, this model can hold from 25 to 50 cigars depending on the size of the ring gauge. Some people suggest not to overcrowd the humidor so you can place up to 45 cigars.
One of its best features is the glass top for viewing. This would allow you to check and monitor your stogies without opening them. Remember that every time you open the storage, the humidity level changes as well.
Pros:
Hygrometer

Elegant finish

Durable
Con:
You still need to calibrate the hygrometer
6. Case Elegance Octodor Cigar Storage
The Case Elegance Octodor Cigar Storage is one of the most expensive humidors on this list, but it is also one of the most popular. Would you spend a lot of money on stogie storage?
For cigar enthusiasts, it is definitely worth the money. This humidor is one of the biggest on the list as it can fit up to 100 cigars. Well, if the cigars are a bit large, you will have to adjust depending on their actual size. This is a great choice if you want to keep a decent amount of cigars as a collection.
Case Elegance really spent a lot of time on its details because it will allow you to maintain the temperature and humidity of the case. Whether it's short-term or long-term, this humidor is capable of preserving your cigars.
It comes with a magnetic lid that will keep the seal tight and secure so air will not spoil the sticks. The hygrometer is also precise compared with cheaper options.
Pros:
Large capacity

Durable

Elegant design
Con:
7. AMANCY Travel Leather Humidor
If you need pocket-sized cigar storage, the AMANCY Travel Leather Humidor is the best choice for you. It is a go-to option for people who love to travel around. For those who do not want to bring large bags with them, this storage option is perfect. It can only accommodate five cigars at most and only weighs around 11oz.
It has a soft and hardwearing PU leather finish so it is perfect for traveling. Compared to other options, it doesn't have a hygrometer because it is only meant as temporary storage for your cigars. This would be a perfect gift for people who love cigars.
Pros:
Lightweight

Pocket-sized

Durable
Con:
The Search for the Best Cigar Storage
Looking for a cigar humidor can be a bit daunting at first, especially if it's your first time buying one for yourself. It is better to take your time and research them before you decide. The list above will make it easier for you to find a reputable and high-quality brand.
If you are searching for the best humidor for your cigars, we've got a wide range of items that won't disappoint that weren't even mentioned on this list. Take a look and see for yourself and browse our collections today.