Do you consider yourself a wine lover? If so, there's no better purchase than a wine cooler. Wine coolers are one of the best investments for anybody with a solid collection of the bottled drink. There are so many benefits of a wine refrigerator. Some of these include blocking light, limiting vibration, and controlling temperature. This will help preserve your wine and allow it to taste even better. 
If you like a pricey bottle of Pinot Noir, Chardonnay, or Rosé, this article is for you. We will discuss the benefits of a wine cooler. Afterward, we will explain why you should store your wine in a specified fridge instead of your regular fridge. Lastly, we'll share some of the best coolers on the market. 
The Wine Cooler Guide
Keep reading if you're looking to elevate your love for grapes. We will get into all of the reasons why you need a wine cooler! 
Benefits of a Wine Cooler
Wine coolers are specially designed to make wine last longer and taste better. There are several benefits of wine coolers. Each benefit adds to the proper storage and preservation of your wine. These five benefits of a wine refrigerator, small or large, will justify the investment: 
Did you know that storing wine on its side is more beneficial than upright? Most wine cooler refrigerators consider that. It is space-saving, and it is better for the liquid. By storing horizontally, the cork stays moist. This prevents oxidation, which can affect the quality and taste of the wine. A dry cork can also shrink. This will let more air into the wine. You can also determine if sediment is being formed in the bottle. 
Many wine coolers feature beautiful wood shelving for horizontal storage. This looks incredible and has a great purpose. 
You may have noticed that many bottles are colored glass. This is because light is one of wine's biggest enemies! Ultraviolet rays can have a harmful effect on wine. Both natural light and the bright light from a traditional fluorescent fridge can cause damage. 
Wine coolers often feature soft lighting to maintain the lifespan of the wine. The lighting most frequently used is an LED. This will help protect the wine and the label. This minor consideration makes a big difference to your favorite drink. 
Your wine should be stored in a temperature-controlled environment. But there's more! Both red and white wines should be served and stored at two different temperatures. White wines are better kept chilled. Red wines are better served at room temperature. Dual zone wine fridges will let you control the temperature of both of your collections. 
Storing wine in your home or above 70 degrees Fahrenheit causes rapid aging of the wine. This will alter the aromas. Another concern is temperature fluctuations. You want your wine stored at a steady temperature. Otherwise, the cork can dry out. 
Humidity may not be suitable for our hair, but it's good for our wines. We recommend storing wine in anywhere between 50% to 80% humidity. Dry climates can cause air to enter the bottle. Wet environments can cause mold. Both of these will ruin your wine. 
Humidity control is significant for aged wine. This is an essential consideration if you have bottles over ten years old. 
We've all heard our traditional fridges vibrate up a storm. Wine coolers don't do this. Most wine coolers operate on a low vibration system. Vibrations and movement cause chemical reactions within the wine. This will cause it to age, spoil, or get muddy. For long-term storage, this is an important factor. 
Wine Cooler vs. Traditional Fridges
If you want to store your wine in a traditional fridge, you aren't alone. Many people opt for storing wine among their condiments and vegetables. However, the two units are very different. Some of the reasons that wine coolers trump traditional fridges are:
A wine cooler has one purpose only. That is for wine storage! All of the conditions and settings are made to accommodate wine. A normal fridge is less specific. The goal is to keep your household consumption items at a cool temperature. The best storage is specific storage made for your wine. After all, wine is expensive and deserves its own system. 

Remember how we touched on humidity? Humidity can make a big difference in wine storage. However, it can also cause premature spoiling of produce and dairy products. Because of that, a normal fridge sits at about 10% humidity. This will cause the cork to dry out over time. Wine coolers often function at 30% to 40% humidity. This will make a drastic difference in having an airtight seal. 

Let's face it: food can be smelly. Different types of food come with different scents. Aromas can penetrate corks. This means that your beloved wine can take on a slight taste of the chicken you were storing. These two don't go together well. Don't contaminate the taste of your wine with food that can be found in your fridge. 

Serious wine collectors can own tens to hundreds of bottles of wine. That won't store conveniently in your refrigerator! You can purchase wine coolers in many different sizes. This can accommodate your collection. Furthermore, there are shelves made specifically for wine storage. Shelving will gently cradle the wine. With fridges, you can expect your wine to not be held as perfectly or gently on the flat, plastic shelves. 

If you want to minimize costs, a wine cooler is a great way to do that. Fridges are expensive, and for good reason. However, wine coolers can come in a variety of price ranges. They are often less expensive than purchasing a standard fridge. 

Your family probably opens your fridge door at least a dozen times a day. Each time, the wine will be exposed to light and vibration. This can damage the wine. A wine cooler will only be opened when you're looking for wine. This will keep your wine tasting better longer. 

To avoid vibrations, wine coolers are made with compressor systems and thermoelectric systems. Standard fridges often come with only compressor systems. This is because vibration doesn't matter as much with food. 
Types of Wine Fridges
There are two types of wine fridges: single zone and dual zone. A single zone cooler will have only one temperature setting. The entire unit will be set to the same temperature. A dual zone has two temperature controls and two compartments. Each compartment can be set at a different temperature. If you collect or store both red and white wines, a dual zone is better. However, if you're strictly a red or white wine connoisseur, you can opt for a single zone. 
Best Wine Coolers 
These are some of our favorite wine coolers on the market. 
Allavino's Tru-Vino technology has many benefits! It allows for minimal temperature fluctuation and reduces humidity variation. This will drastically preserve the lifespan of your wine. However, it doesn't stop there. This wine cooler also features beautiful adjustable hardwood shelves, and cool blue LED lighting. This results in a sleek system and ideally stored wine. The tinted amber-colored glass makes a statement in any room.
Furthermore, protect your wine with a convenient lock. Use your personal key to unlock the system.
Enjoy stainless steel finishes with this gorgeous single zone wine cooler from Whynter. This can store white, red, or sparkling wines. A wire shelf will display six of your favorite wines. There are also 12 removable shelves that allow you to customize your storage. 
Finished with a digital touch screen temperature control, Whynter brings technology to the world of wine lovers.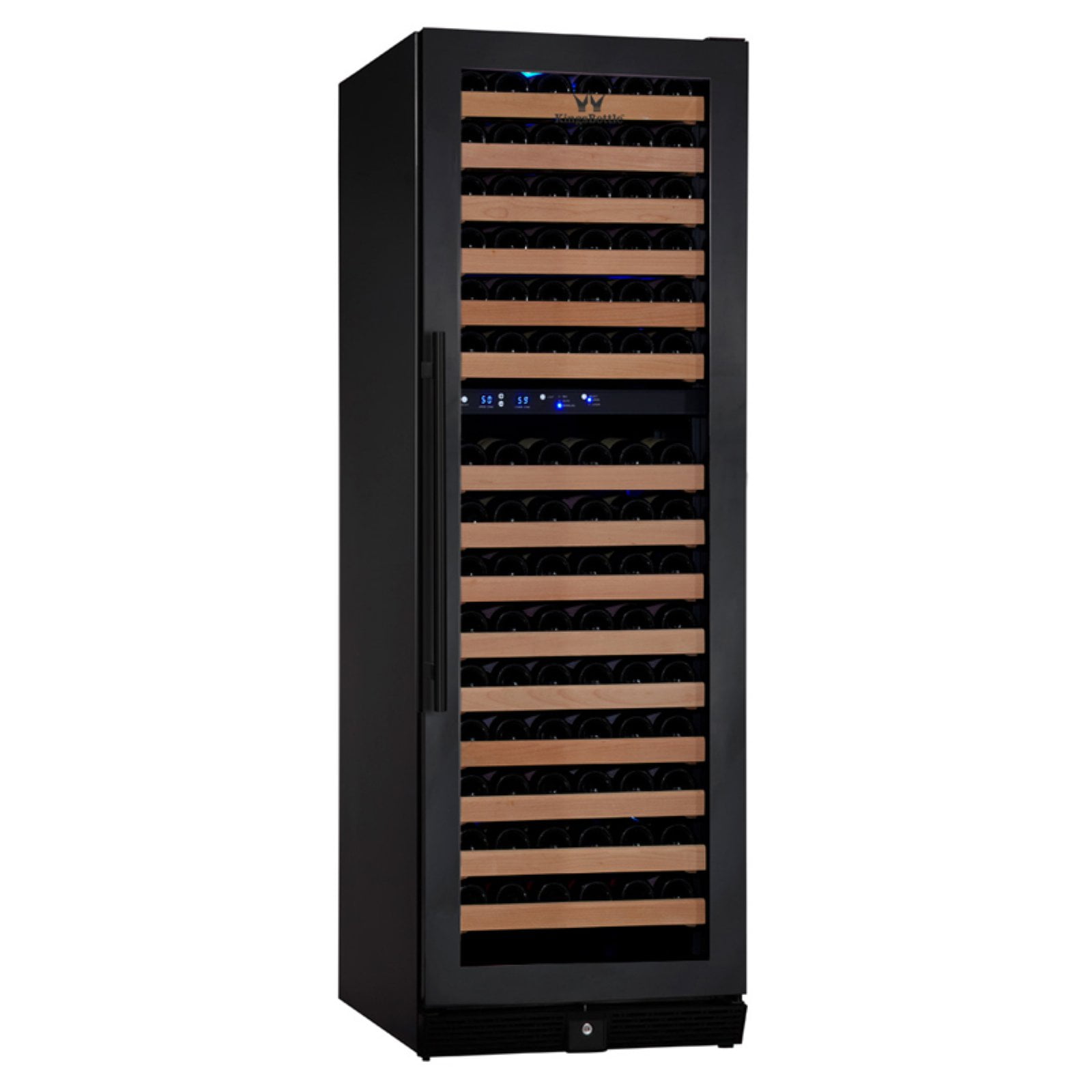 Store up to 164 bottles with this cooler from KingsBottle. Choose from a borderless black glass door or stainless steel door trim. This customization option will allow for a seamless addition to your kitchen. The compressor in the KingsBottle cooler is extremely quiet and vibration-free. Use this cooler either built-in or freestanding.
If you have an impressive collection of either red or white wines, this cooler by Lanbo is excellent. At a large 32 inches wide, this cooler makes a statement. It features a single zone temperature function and a tinted dual pane glass door. You'll get a convenient 1-year warranty for labor and a 3-year warranty for the compressor. 
 
The PRW24C02BBSG is a Dual Zone Wine Storage Cooler that holds up to 45 bottles with a black stainless steel exterior trim.  Zephyr features numerous premium featuring including; Electronic Capacitive Touch Controls, 3-Color LED Lighting in Cloud White, Deep Blue and Amber, Dual Evaporators, and  Carbon Filter Air Filtration. With a front breathing design, this unit can be used for built-in or freestanding use. The black stainless steel finish speak volumes to the stunning elegance this wine and beverage cooler will bring to your home.
Conclusion
If you're looking for a wine refrigerator, these are all great options. We have outlined some of the best wine refrigerators on the market. Each features temperature control, light reduction, and low vibrations. This will all ensure that your wine stands the test of time! Whether you like red, white, or both, we have the cooler for you!